Stat of the day: £153m
How much people are expected to spend shopping online on Christmas Day.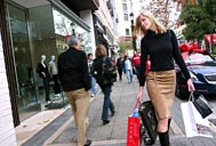 Never mind waiting until January for the sales, people are expected to spend a record amount online on Christmas Day this year. An estimated five million purchases will be made, totalling around £153m.
Stores expecting to start web sales on Christmas Day include Argos, Debenhams and M&S. Interactive Media in Retail Group (IMRG), who released the figures, expect the total amount spent will be up by £21m from last year.
Spending Christmas Day shopping online has also become more popular as the number of people receiving gifts in the form of download tokens rises - Christmas Day 2009 was iTunes' biggest day of the year. Now there's an idea for those who leave their present shopping until the last minute…