Stat of the day: 2.1%
The gap between the salaries of men and women in their 20s - only this time, there's a glass ceiling-smashing twist...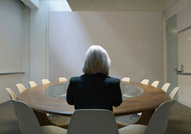 The gender pay gap may continue to yawn - but it seems that women in their 20s are making gains on their male counterparts. More than just gains, in fact - according to new figures from the Office for National Statistics, we've (yes, we) actually managed to reverse it, with twenty-something women now earning 2.1% more than the men.
So all that needs to happen now is for men to start taking an equal role in childcare duties and for more women to enter the boardroom. Hmm. Still seems like a depressingly big job to us...