Stat of the day: 2.2%
The amount the average worker's salary is predicted to rise this year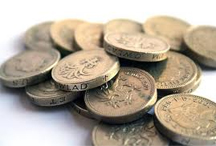 TUC general secretary Brendan Barber has warned of the 'desperately low morale' in companies after it was disclosed the average worker's pay rose between 2-3% last year - while RPI inflation stands at 4.7%.
FTSE-100 directors, meanwhile, saw their total earnings rise by 55%, according to research released in October by the Incomes Data Services. Mind you, that's also taking into account factors like the amount the value of their share options have risen - so Barber's accusations that they have their 'snouts deep in the trough' doesn't ring entirely true.

Still, for the average worker, things aren't expected to get any better this year, with researchers warning of pay freezes or pay rises below inflation in 2011. Combined with the rise in VAT, petrol prices, train prices etc etc, it looks like we'll be having a very frugal 2011...