Stat of the day: £230.9m
The profits made by the Crown Estate last year - a record amount.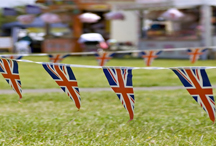 Bit of a Marie Antoinette moment for the monarchy: while its subjects toil in the grip of austerity, inhabitants of the Palace are doing rather well, thank you very much. The Crown Estate, which (funnily enough) owns property on behalf of the Crown, posted record annual profits – a chunk of which will go to the Queen.

Profits increased to £230.9m, up nearly 10% from the £210.7m it recorded a year ago. This was helped by the Crown's extensive property portfolio, including Windsor Great Park, most of Regent Street and almost all the UK's seabed, which saw its value rise to more than £7bn.

The Queen's in line for a 15% share, after George Osborne proposed scrapping government grants to the royal household in favour of giving the Monarch a slice of the profits instead. So it looks like for the foreseeable future, the Queen and her family will be eating plenty of cake…