Stat of the day: £2bn
This is how much the UK payday loan industry is now worth. In the next six months, millions of Brits will take out a short-term loan and pay rates of interest of up to 30%. At least they don't break your legs if you don't pay...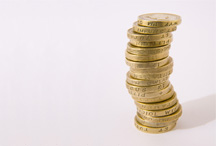 Britain is a nation addicted to credit - the average personal debt in this country stands at around £9,731. Payday loans are doing a roaring trade off the back of our borrowing binge, dishing out hundreds of small, unsecured loans every day, and taking between £13 and £18 for every £100 borrowed (up to £30 for some instant online transactions). Annualised, this results in an APR of 1,000 to 2,000%.
The average size of a payday loan is £300, according to campaign group Consumer Focus. And the lion-share of these loans are, unsurprisingly, taken out by borrowers with a household income of less than £25,000.
But debts can add up. These loans are designed to be paid back at the end of the month, or whenever your wage packet lands. Fail to do so and the rolling interest becomes crippling. R3, the Association of Business Recovery Professionals (they represent bailiffs, essentially), recently conducted a survey of 2,000 Brits. One in six were found to be 'zombie debtors', so-called because they are only ever able to pay off the interest on their debt every month, so the outstanding amount lives on ad infinitum.