Stat of the day: 40%
The amount by which shares in the Bank of Ireland have dropped this week. Whoops...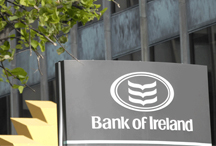 Feel like a flutter? Best not to bet on Bank of Ireland shares, which plunged this week after talk of a bailout was affirmed by Taoiseach Brian Cowan. In fact, the bank has seen its value drop to just €1.2bn (£1.02bn) since the beginning of the week. To try to stem the country's troubles, the Irish leader yesterday unveiled plans for a €15bn austerity programme, which includes a 2% rise in VAT to 23%, and a rise in the country's ultra-low 12.5% corporation tax - which won't go down well with businesses.
If you're still in the mood for a gamble after all that, try Irish bookmaker Paddy Power, which, at €1.4bn, now has a larger market value than the Bank of Ireland, after it announced yesterday it would be creating 500 new jobs in the country. One bet that might just pay off...