Stat of the day: £4,000
The iconic Friends sofa is up for auction, expected sale price: a cosy £4,000.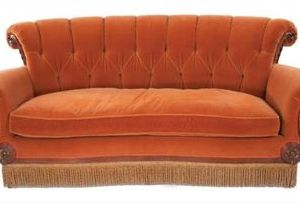 Friends fans will all remember this orange mohair monstrosity from the fictional coffee shop, Central Perk. And now the more ardent among them can actually own the sofa, cushions still dented by the cottoms of Jennifer Aniston, Couteney Cox, Matt LeBlanc et al.

This couch and other Friends memorabilia, including the picture frame that concealed the peep hole in Monica'a apartment door, is all going under the hammer at the Profiles in History Icons of Hollywood auction later this month in Los Angeles.
Not so big on Friends? Other must-have items up for grabs include the iconic DeLorean car from Back to the Future, the ruby slippers and Cowardly Lion costume from The Wizard of Oz, Steve McQueen's Le Mans racing suit and Bela Lugosi's Dracula cape.