Stat of the day: 55%
The percentage of local authorities in England where private rents are now deemed 'unaffordable'.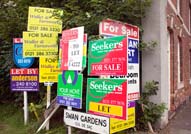 If you're struggling to pay your rent, you're not alone. Private rents are now classed as 'unaffordable' (ie. more than a third of a household's total income) in 55% of local authorities in England, according to homeless charity Shelter.
MT can barely remember the days when renting was seen as a cheaper alternative to home ownership – but the problem is that the lacklustre housing market, along with first-time buyers being priced out the market, has pushed up demand for rental properties.

Unsurprisingly, London boroughs were the most expensive, with the average monthly rent for a 2-bed house costing £1,360. Ouch.