Stat of the day: 6m
The number of people in line for a surprise tax rebate.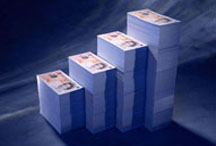 Six million people in the UK will have big smiles on their faces week, after HRMC admitted to collecting too much tax from a sixth of people in the UK: they're now in line for a tax rebate averaging around £400 each.

Sadly, it won't be good news for a further 1.2m, who didn't pay enough tax and now owe HMRC up to £600. The mistakes date back to 2007/8 and were spotted as the Inland Revenue carried out an annual check to ensure that tax and National Insurance deducted by employers matched its records.

Last year, HMRC brought in a new IT system to help it spot mistakes, which is why the discrepancies have only come to light now. Better late than never, we suppose – unless you're one of the unlucky ones who paid too little tax…