Stat of the day: £74
The average cost of a Christmas dinner for six is up by £3.70 to £74 in 2011. There's only one thing for it. We're going to have to skip the sprouts this year...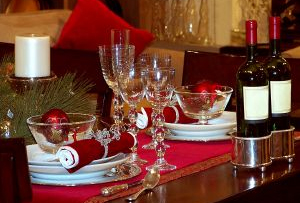 Waistlines aren't the only thing expanding this Christmas - food costs are also steadily ballooning. With meat, vegetable and crop prices edging ever higher, and sterling exchange rates down, the average family is going to pay nearly £4 more to have a festive spread this year.
According to research conducted by the University of Nottingham, the cost of an average supermarket shopping trip is 5% higher than this time last year. The price hikes are principally down to food price inflation which, despite the new 4.8% UK inflation figure announced today, is still at a 20-year high. No wonder allotment waiting lists are all over-subscribed; everyone wants to grow their own veg rather than cough up £2 for a bag of spuds.
It's not all bad, though. Nottingham Professor Wyn Morgan believes that the cost of a Christmas lunch may have finally peaked: 'I think overall inflation will diminish,' he says. 'There seems to be some light at the end of the tunnel.'