Stat of the day: £7m
The amount that will be saved each year once bendy busses are banished from the streets of the capital. Fare dodging was, apparently, much easier on the 80m-long busses.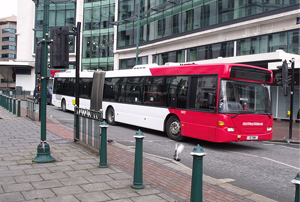 God speed (but not too much) to the last of a rare species not many will be sad to see the back of: at 12.05am tomorrow morning, the last bendy bus service will depart from just outside BBC Television Centre in White City. The number 207's final destination will be the Hayes Bypass, thus ending the short, but nonetheless controversial, reign of the bendy bus on the streets of London.

So hated were the busses that they became one of the pivotal issues of Boris Johnson's mayoral election campaign: Bojo promised that, if elected, he'd do away with the 'traffic-blocking, self-combusting cyclist-crushers'. And now he's made good on his word: Transport for London will replace the 356 articulated busses with 500 new double deckers which will, according to the boffins at County Hall, save £7m a year in fare evasions – but only raise operating costs by £302,000, to £110m. Although suspiciously, there's no mention of exactly how much the new busses will cost to buy. So maybe not such a fare deal, after all...
- Image source: Flickr/ell brown