Stat of the day: 90%
The percentage of the UK workforce which has seen its wages fall.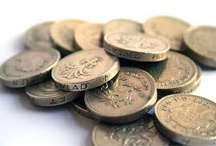 New figures from the GMB union rather confirm what many of us have already guessed: our wages are steadily dwindling. Thanks to rising inflation (currently 5.2%), pay packets have shrunk for a whopping 90% of workers in the UK.

The research suggests that professions ranging from hairdressing and sales to teaching and town planning have been affected. On average, the annual pay of full-time workers in 284 occupations fell by a fifth in the four years to September.
The union's general secretary, Paul Kenny, criticised the Government's economic strategy, saying Chancellor George Osborne had the 'economic literacy of a stick of rhubarb'. Ouch.