Stat of the day: 9.8%
The fall in beer sales over the last three months.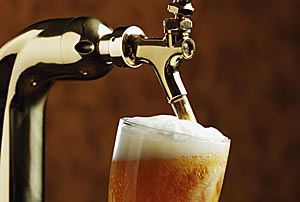 Looks like the nation's pub owners are going to be drowning their sorrows today: according to figures from the British Beer and Pub Association, sales of beer fell by 9.8% in the three months to June compared to the same time last year. Broken down, sales in supermarkets and shops fell 15%, while pints in pubs fell 4.5%.
Last year's sales were boosted by the world cup. Despite the Royal Wedding giving a boost to the industry this year, the sparkle fell flat as higher beer tax and VAT hit brewers hard. 'Beer sales are a barometer of Britain's economic confidence,' Brigid Simmonds, chief exec of the BBPA said. 'Beer tax rises are now hitting our brewers and undermining recovery.' Beer duty has risen 35% in the past three years, with the average price of a pint at just over £3.