Stat of the Month: £86.5bn
Estimated spend of UK households in the run-up to Christmas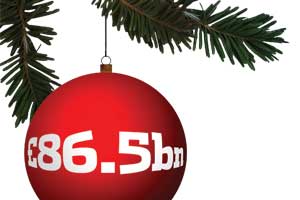 After a tumultuous year, retailers are pinning their hopes on Christmas delivering a much-needed sackful of cash.
For non-food retailers, the Christmas season can make up half of their year's business; while across the retail sector as a whole, the fourth quarter accounts for about 29% of a year's revenue.
Last year, retailers suffered lacklustre yule trading in terms of sales, in part because of the icy weather, but there are glimmers of hope for 2011. UK households are expected to spend £86.5bn in the run-up to Christmas, £1.2bn more than in the fourth quarter last year.