Stat of the month: Closing time for UK's pubs
Last orders at your local pub may be just that. Figures from the British Beer and Pub Association (BBPA) show the UK's boozers are closing at the rate of 30 a week.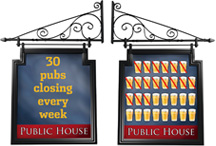 Back in 2005 (before they went smoke-free), there were 58,600 pubs in Britain - now there are around 52,000. Some of this can be put down to recession-hit punters drinking a Tesco six-pack at home, coupled with a 26% rise in beer duty over the past two years. Excessively leveraged management companies, for which pubs are just a property play, must also shoulder a fair share of the blame for this diminution of our national identity.
But it's not all bad news for owners willing to put in an early start. Highly profitable J D Wetherspoon reckons its pubs sell 400,000 breakfasts a week, second only to McDonald's. That'll be a pint of bitter and a croissant, please, bartender.