Stay in control, with YouTube
Keeping a handle on things, with Buster Keaton, drunk pilots and Apple.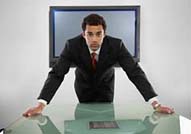 When the economy takes a turn for the worst, it can be tempting to try to take on too much. But it's best to stick to what's realistically achievable. Otherwise things can quickly spiral out of control, like when Buster Keaton tried to build a house single-handedly.

United Airlines had a hard lesson in controlling their employees this week - one of its pilots was arrested on a plane at Heathrow on suspicion of being drunk, moments before taking control of a transatlantic flight. Of course, staff shouldn't be treated with kid gloves. But as this clip shows, if they go too far it'll show up very badly in customers' eyes.
Keeping a handle on your public perception extends to your deliberate publicity too. Anyone who watched Microsoft's baffling ads with comedian Jerry Seinfeld will know that they lost the plot somewhere. Not least because they reportedly cost tens of millions of dollars. And, of course, now Apple is laughing...