Stay-home shoppers and Kindle send Amazon soaring
Amazon has posted a recession-busting 68% boom in profits. What's the secret?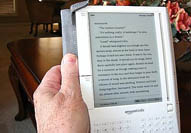 One of the few remaining original dotcoms from the early days of Web 1.0, Amazon made $199 million profit, up from $118 million the same period last year. What's more, it's not all cost cutting either - sales are up 28% to $5.45 billion. That's a pretty hefty increase given the chilly economic climate, even for a company which has expanded out of books and music and now sells pretty much everything.
One popular move has been a $20 price cut on new gadget the Kindle e-reader – a portable electronic book which is now the site's bestseller, says Amazon founder Jeff Bezos 'Kindle has become the No1 best-selling item by both unit sales and dollars – not just in our electronic store, but across all product categories'.