Staying abreast of deforestation
Here at MT we're always interested in clever new products, particularly if they do their bit to save the environment. So as you'd expect, we were very excited to learn about a new bra designed to encourage Japanese women to re-use their chopsticks.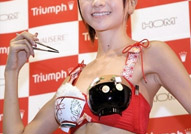 No, that's not a euphemism. Triumph International Japan has designed a bra called 'My Hashi', which has a special compartment on one side to house a collapsible pair of chopsticks. To complete the theme, the two bra cups are designed to look like bowls of rice and miso soup (on the right and left respectively).
Triumph is not actually planning to start selling the bra – it's intended as an attention-grabbing publicity stunt (damn, we fell for it). But there is a important message behind it. Japan is seriously obsessed with waribashi, the disposable chopsticks you get at every sushi bar and restaurant in the country. It gets through about 25bn pairs every single year, which equates to about 200 for every single man, woman and child in the country. Most are wrapped in plastic, and few are made from recycled materials.
Inevitably, it's taken an economic incentive to spur the country into action. Most of its waribashi are imported from China, which is currently chopping down 25m trees a year to meet the demand. Not surprisingly, the Chinese are starting to get a bit twitchy about this – last year it imposed a 5% surcharge on imports, pushing up prices in Japan. There are even rumours that it might stop exporting them altogether.