Stelios targets Africa with new budget airline
The king of no-frills flying is back in the cockpit at new airline Fastjet. This time, he's taking on the African continent. But can he 'do an easyJet' all over again?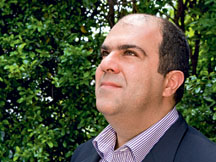 When Sir Stelios Haji-Ioannou registered the brand name Fastjet back in September, rumour was rife that he was planning to launch a European airline to rival easyJet, the firm he founded in 1995. But Sir Stelios and his family still own 38% of his original budget brand and, while his spats with the current management are well documented, blood is still thicker than water at the firm.

No, no. Fastjet was always destined to spread the Cypriot entrepreneur's wings well beyond Europe. And the timing couldn't really be better. With the eurozone on its knees, crippled by financial turmoil, other emerging economies are looking more and more enticing.

Sir Stelios has brokered a rather tasty deal, too. By joining forces with London-based investment house Rubicon Diversified Investments, he has effectively shrugged off all the risk of launching this new African venture. His interests include a 5% stake in the new airline (with the option to acquire a further 10% through easyGroup, his parent company) and a nice fat royalty fee: the airline is licensing the Fastjet brand name he pocketed earlier this year. AIM-listed Rubicon has exclusive rights to the Fastjet name for 12 months and, if it successfully buys and liveries any aircraft, it will be granted rights 'in perpetuity'.

Stelios' role at the firm is to use his considerable industry clout to market and grow the brand. And there's no doubt that he is marketing wizard - who can forget his lurid orange boiler suit, emblazoned with the easyJet logo? He was quite the celebrity in Luton airport back in those days. It shouldn't be a hard concept to sell either. Africa is crying out for a more affordable, comprehensive means of air travel. The continent is also destined to become a real growth hotspot over the next five years - and Rubicon is getting a jump on the coming wave of corporate imports setting up shop in the territory. Fastjet's 'low-cost, point-to-point, no frills, all jet aircraft business model for Africa' could have the place all sewn up within a year.
There's one thing missing from this shiny new venture: the details. Where exactly will Fastjet fly to? How many aircraft will be bought for the fleet? How will they cope with operating in such a vast and culturally (not to mention politically) complex area? Where will Fastjet be headquartered? Stelios does have form in this industry but the UK is very different to Africa.

Nevertheless, Rubicon chairman Robert Burnham obviously thinks that getting Sir Stelios on side is a coup: 'We are very pleased [to have] secured the management team,' he says. The markets think that he's made a decent hire too: shares in Rubicon rocketed 119% to 7.63p following the announcement this morning. Let's just hope that Stelios doesn't stay true to form and start boardroom tussles with his new team. With so much riding on his competence and ability to sell this new brand to the world, top-tier strife could send this soaring venture into a nosedive.