Stelios wants to shake up the car rental market (again) with EasyCar Club
The serial entrepreneur wants to grab a slice of the sharing economy with peer-to-peer car rental platform EasyCar Club.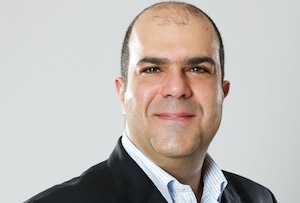 There's a lot of money to be made in the sharing economy at the moment. Businesses helping us to rent out or sell things we aren't using - space in our cars, spare rooms and even excess food - finally seem to have hit on that magic combination of scale and buzz and venture capitalists are piling in like there's no tomorrow. Private car hire app Uber is now worth $17bn (£10bn), while room rental site Airbnb has been valued at $10bn.
Those increasingly big names all began life as upstart startups, though, not the brainchild of established brands. But where there's a lucrative pie to get slicing, it's not surprising that well-known businesspeople are also piling in.

Step forward Sir Stelios Haji-Ioannou, the man behind that distinctive shade of orange. Best known for shaking up the airline industry with EasyJet, he has turned his attention back to transport with peer-to-peer car rental platform EasyCar Club, a concept he coined with Lastminute.com founder Brent Hoberman.

It's a reasonably simple concept: owners list their vehicles on the website for drivers to rent out; EasyCar Club provides insurance and breakdown cover with the RAC (AA? Clearly too yellow), vets both sides and takes a 10% cut of the rental fee (after insurance is paid out). But the company makes no bones about its ambitions.

'Our aim is to be the largest rental fleet in the UK within three years, which would mean that we would be turning over hundreds of millions,' says Richard Laughton, the chief executive of EasyCar, the traditional car rental parent of EasyCar Club.

'It's something that has got a great deal of scope, because there are 30 million cars on the road, and whether its 5% or 15% of people who are prepared to rent their cars out that's still a very large number,' he tells MT.

But getting to the top of a market worth more than £2.1bn in 2013, according to researchers Mintel, will require some pretty impressive growth. EasyCar Club currently has 'in the mid 1,000s of drivers' and 1,000 vetted vehicles, just over half of which are available to actively rent on the site. Meanwhile, the largest renter, Enterprise, has a 55,000-strong fleet.

Laughton claims they can overtake the big boys, though, as the company isn't constrained by the costs of buying its own cars (something which distinguishes it from car clubs like City Car Club and Avis-owned Zipcar). Renters make an average of £1,500-£1,800 a year, he says, while some rake in as much as £3,500. Not enough to give up the day job, but enough to ensure EasyCar Club, the first peer-to-peer car renter in the UK, grew five-fold in the four months after its nationwide launch in January, following a year-long trial in London.

In contrast, it seems the original EasyCar hit something of a wall. The company was launched in 2000 with its own vehicles and, when that didn't work, switched to a brokerage model. But then it went through what Laughton describes as a 'period of unprofitability'. That prompted Stelios to take the steering wheel for a couple of years, before stepping back again in February last year, when Laughton was brought on board.