Sterling plummets as inflation falls to five-year low of 1.2%
Price growth has fallen again - interest rate rises now look even further away.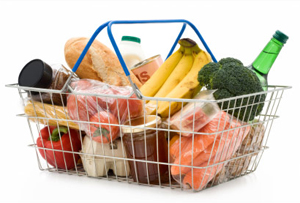 Inflation is on something of a downward march at the moment, falling even further below the Bank of England's target 2% rate to 1.2% in September, compared to 1.5% in August. That's the lowest level since September 2009, and a far cry from three years ago when it hit 5%.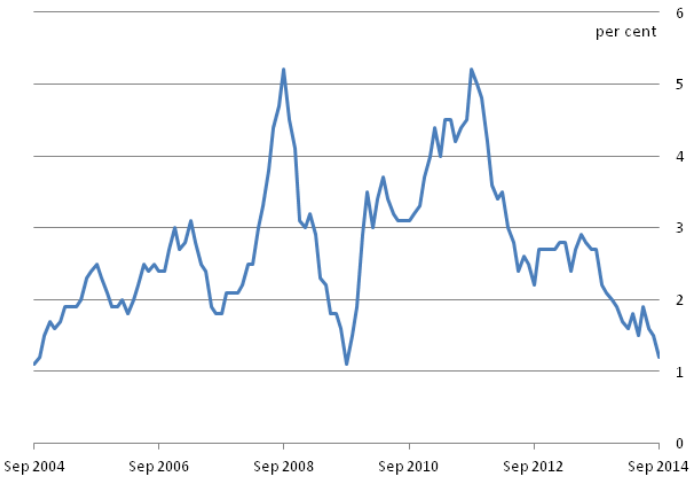 Source: ONS
The supermarket price war pulled food costs down 1.5% in the 12 months to September, while motor fuels cost 6% than a year before. Without those, inflation would have been 1.6%, the Office for National Statistics said.

That sent the pound plunging more than 0.5% against the dollar, from $1.6048 at 9am this morning to around $1.598 in mid-morning trading, as traders bet that the Bank of England will wait longer than previously expected to raise interest rates from their record, 67-month low of 0.5%.

The pressure does increasingly look like it's easing on Mark Carney and the Monetary Policy Committee, particularly as falling inflation will be a welcome respite to the average worker, with real wage growth stagnating (although figures for September are out tomorrow).

Unsurprisingly, David Cameron crowed on Twitter that it showed the Government's #LongTermEconomicPlan was working, neglecting to mention rubbish pay growth – which the Office for Budget Responsibility said yesterday would probably contribute to less income tax than expected being collected this financial year.


Today we're giving people who've worked hard, saved hard and done the right thing more freedom over their pension. #LongTermEconomicPlan

— David Cameron (@David_Cameron) October 14, 2014
But with Eurozone inflation ominously close to negative territory at 0.3% in September, the danger is that the UK will also be pulled into Japanese-style stagflation, where prices slip into a downward spiral, dragging the economy down with it.
And figures from the British Retail Consortium and KMPG out today added to a generally muddy economic picture. Retail sales fell 2.1% in September compared to the same month in 2013, the worst monthly fall since the depths of the financial crisis in late 2008. We're not out of the economic woods just yet.