Stocking chiller: UK retailers to lose £147m this Christmas
All stocked up for Christmas? Research says 'no'. According to a new survey by Netsuite, British businesses stand to lose millions this Christmas due to missed sales opportunities.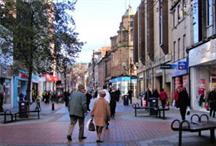 Whether it's down to poor stocking levels, or a lack of awareness about the products and services offered by the competition, UK retailers could find that they lose out on quite the chunk of change over the festive season.
This Christmas, the report estimates that the average retailer will lose out on 10% of its Christmas revenue to being out-of-stock. Netsuite's research (compiled by CEBR) reckons that the figure could hit £147m in lost sales, plus an additional £1.7bn lost to competitors as disappointed shoppers take their business elsewhere.
The data is based on a frank survey of 2,000 respondents, which found that last year more than half of retailers (66%) were out-of-stock on particular products at Christmas, with clothing (52%), food and drink (44%) and electrical goods (44%) most commonly out-of-stock. MT remembers trying to track down a Heston Christmas pud months before the big day to no avail...