Of Stonehenge, Vodafone and Spinal Tap
EDITOR'S BLOG: All hail an underpass under the standing stones and more investment to fix our dodgy mobile coverage.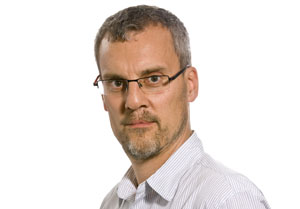 It's Friday, so let me get two apparently unrelated things off my chest - Stonehenge and Vodafone coverage. (You'll see how they are linked later.)

I spend a fair bit of time travelling between the capital and the West Country where my family is fortunate enough to have an elderly friend with a small cottage on the edge of Dartmoor in the beautiful village of North Bovey.

Those who attempt this trip frequently will know that there is no easy way of getting from London and the South East to the South West without enduring pain. The M4/M5 route if taken at any point from 7 AM and 10 PM is like Death Race 2000 and, during summer months, has caravans added to increase the jeopardy.

Public transport - i.e the trains - is grim and expensive. The track is 19th century and there are no overhead electrical power lines. The rolling stock out of Paddington is ancient and the Waterloo-Exeter South West trains service goes at a comic Thomas the Tank Engine pace past Salisbury. Things are so bad that Flybe is even having a go at reviving the air route between London City airport and Exeter. You can get a round trip return ticket for as little as £70. I wish it well.

The other way is to take the A303 scenic route but then, without fail, you hit the appalling bottleneck that is Stonehenge. I've seen people having sandwiches on the grass verge or hard shoulder, waiting for it to clear. For years and years English Heritage, the National Trust and the various authorities have been trying to do something both to improve the environment of this bizarre ancient monument and improve traffic flow past it. Now there may be a real chance of an underpass in a tunnel.

John Cridland of the CBI is calling for George Osborne to fund it in the Autumn Statement noting, 'President Obama went to see it when he was at the Nato summit. God knows what he thought of the glorified car park that is the A303 every weekend and most mornings. It is undermining a world heritage site and slowing up a key arterial link for our economy.' £600m won't be cheap but we definitely endorse this call.

Which leads me onto other infrastructure issue. The other day I took South West Trains to Exeter and, as we trundled along in Annie or Claribel, was dismayed by the poor quality of the mobile phone signal all along the route. Even between Clapham Junction and Waterloo the 3G signal falls away on Vodafone, the MT provider.

Rural mobile telephony in the UK is often a joke. When you travel in Turkey, Italy or Portugal coverage as you roam across providers is fine, but here in the UK it's an embarrassment. It's not just a pain in the neck that kids can't stream Barbie vids on YouTube - it's lead in the saddle of our economy. In a publicity stunt earlier in the week the government hinted it might threaten mobile phone companies with enforced roaming and sharing of their networks. They replied by bleating it would drain our phone batteries even faster. As my iPhone 4 is already flat each day by 3pm, despite a 100% overnight charge, I don't regard this prospect with much relish.

The mobile operators are a sullen lot. They make next to nothing here in a cut throat market having been fleeced something rotten by previous governments for their licences. Forcing them to open their networks to their rivals for domestic roaming - hardly likely to make them less sullen - won't tackle the underlying problem of lack of investment in network infrastructure.
The issue is one of capacity as much as coverage, and capacity means more investment. Beating up the operators - many of them owned by foreign investors of course - is not going to make them more inclined to open their wallets and ease the burden of signal rage amongst the travelling public.

So, anyway, have a pleasant weekend and if you're travelling any distance may you get there rapidly and safely with a great phone signal all the way. As a treat, here - from the five hour rough cut of 'This Is Spinal Tap' - is the meeting between Ian Faith and the scenery designer, played by Anjelica Huston, tasked with bringing Nigel Tufnell's Stonehenge napkin diagram to life.



This is the scene that would have come before two of the immortal lines of cinema.

Ian Faith: Nigel gave me a drawing that said 18 inches. Now, whether or not he knows the difference between feet and inches is not my problem. I do what I'm told.

David St Hubbins: But you're not as confused as him are you? I mean, it's not your job to be as confused as Nigel.