Stowells gets Silva wining
Apparently TV 'babe' Adele Silva is going to be the face of a new Stowells wine at Asda. Celebrity endorsement is clearly a great way for consumer businesses to get their products flying off the shelves – but in this particular case, we can't help but wonder: erm, why?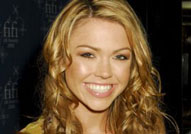 Silva shot to 'fame' playing Kelly on Emmerdale, but is probably best known for her recent appearance on reality show Hell's Kitchen, where celebrities were trained as chefs by Marco Pierre White. After leaving the show – which she didn't even win, incidentally – she apparently became hot property. A source (probably her PR person) told the Daily Mail: 'Adele is in huge demand and thanks to Hell's Kitchen the world really is her oyster'. Just to prove the point, she's since won a lucrative lingerie modelling deal and been signed up as a roving reporter on GMTV.
Now she's turning her talents to the wine trade. Not that she knows anything about it, you understand. The advertising campaign will feature her travelling around vineyards learning about the wine-making process, eventually producing her own vintage – which will end up as a Stowells limited edition at Asda. The winemaker is arguing that this 'ground breaking project' will dispel the uptight image of the world of wine.
In case you're starting to wonder whether you've actually clicked through to CelebGossip.com, we do have a serious point here. Celebrity-based marketing is clearly an effective tool for business. But is this not endorsement gone mad? Surely most right-minded people would rather buy wine made by professional vintners, who actually know how to do it, rather than C-list celebrities who've spent the last six weeks on a vineyard tour? We might be more likely to buy clothes from Marks & Spencer because we like Twiggy – but that doesn't mean we want her sent to a factory in China to make them.