Straight-talking tips, from YouTube
How to avoid beating around the bush, with the Office, Nighty Night and Independence Day.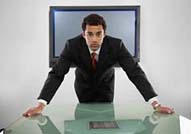 Stick to the job in hand. No one appreciates pussy-footing in tough situations. As the Office's David Brent demonstrates, if you're informing someone of their redundancy, stay on subject. When you veer off into discussions of dwarfs and elves, it doesn't do anyone any favours.
That said, get the balance between saying it straight, and being aware of feelings. Don't come across like an automaton. Nighty Night's Kathy buys Jill some jewellery for a present. It's the wrong one. Jill's reaction - refusing it and making her wheelchair-bound friend head back to the shop to get the right one - is hardly endearing.
Don't let the surrounding panic cause you to lose focus. Especially when others may look to you for guidance. Times may be tough now, but stakes rarely get as high as having to unite the world to repel imminent alien invasion. As Independence Day's president Bill Pullman does here. Just try to lay off the cheese.