Streaming nose for Netflix as shares tumble 26%
Investors turn away, as higher prices and tougher market conditions lead the streaming service to miss its internal targets.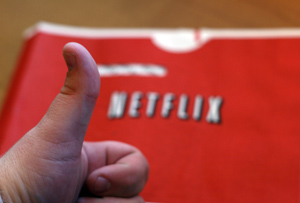 If any Netflix executives left the office yesterday thinking everything was just dandy, they'll be waking up to a headache this morning. Shares in the online streaming business lost 26.4% of their value in after-hours trading yesterday following disappointing results. They closed at $448.59 (£287.63), up 22% over the year, but fell back to $330 after the bell was rung.
Shareholders took the huff after boss and founder Reed Hastings wrote them a letter, saying that subscriber growth had fallen well short of expectations in the third quarter. Only 3.02 million people signed up worldwide over the last three months, it seems, resulting in a shocking year-on-year revenue rise of 38%, to $1.22bn, and profits of $59.3m, barely 85% higher than the third quarter of last year.
You'd have thought sending a letter (quite sweet, really) with numbers like those would have wooed anybody, but the markets respond to surprises and they didn't like this one. Netflix had predicted an additional 660,000 new subscribers, meaning it missed its target by nearly 20%.