Stress? Not on my watch, say managers
Lots of managers think stress is a big problem. But they don't always recognise it on their doorstep.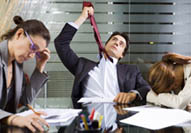 Are managers in denial about the stress levels of their own team members? That's the implication of research by consultancy Right Management, which discovered that nearly 30% of managers think stress is a big problem within their company - yet a mere 7% think it affects people in their team. Either these bosses are super-hot at preventing stress, or they're reluctant to admit that their own charges may be suffering. And since stress still seems be rather a dirty word in some companies, the latter explanation is not entirely implausible.

Right Management's research was actually about health and wellbeing more broadly, and the benefits for employee engagement (nearly three-quarters of managers think that healthier staff are more engaged staff). When asked what were the biggest 'wellness' issues affecting their company, 29% plumped for workplace stress, which made it the second most popular answer behind long hours/ work-life balance (cited by 32%). But when asked to name the wellbeing issues that most affected their team, only 7% mentioned stress. Indeed, no fewer than 70% of the managers surveyed refused to admit that there was a single wellbeing issue that was particularly relevant to them.

Of course it may be the case that the managers concerned are great at preventing stress – and to be fair, you'd expect that the 29% who cited it as an issue originally are more likely than most to be keeping a regular eye on it. But we still can't help feeling that this discrepancy is suspiciously large...

Right Management certainly thinks so; senior consultant Kirsten Sholl argues the results are 'symptomatic of a more complex management problem' – namely, that employers are still reluctant to talk about stress. Apparently, this is largely because they don't know how to have the conversation. 'Even if mangers want to raise the issue of stress with an employee they often feel unable to do so,' she says. 'Some are simply unsure of what they can and can't say, and are afraid of the employee's reaction if they do try and address the issue.'

This put the ball firmly into the employer's court: companies need to make sure their managers have the skills not only to recognise stress, but also talk about it when they see it. Sholl says it's also about changing perceptions – perhaps by talking about it in terms of pressure instead – and maintaining open lines of communication. If companies get that little lot right, hopefully stress won't be a problem anywhere in the organisation...

In today's bulletin:
Euro slumps again as sluggish Germany scuppers Greek bailout
Eurostar slammed over hopeless contingency plans
Passion on the job this Valentine's Day
Stress? Not on my watch, say managers
Psychology at Work: Terry, Toyota and Trust