Stressed Sants to wave goodbye to Barclays
Barclays has announced Sir Hector Sants has resigned from the bank, having been signed off with stress.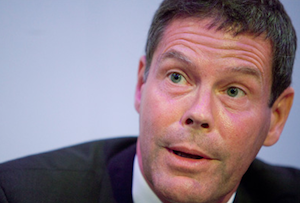 Sir Hector Sants, the former chief executive of the Financial Services Authority (FSA), has resigned from his role as head of compliance and government relations at Barclays, having been signed off with stress at the beginning of October. Yes, Britain's third largest bank has been left sans Sants.

'Hector Sants has been on sick leave since the beginning of October, suffering from stress and exhaustion,' said the bank in a statement.

'He has concluded that he will not be able to return to work in the near term. Consequently he has decided to resign from Barclays and not return from sick leave.'

Sants must have found it pretty tough going at Barclays – heaven knows the job he held before was no yoga session. He became chief executive of the FSA back in 2007 – right before the dung hit the fan for the banking industry. He stayed with the FSA until 2012, right before it was split into its two new forms – the FCA and the PRA.

Post financial collapse, the world of financial compliance has been under a pretty intense spotlight – it has gone from fairly low down on banks' list of priorities straight to the top – the fortunes of Sir Hector Sants could well be used to illustrate this.

He was lured from the regulator to take the top compliance job at Barclays in December 2012 – something of a coup for a bank, which desperately needed to show its dedication to the rule book.

'Relationships with our regulators and governments around the world are obviously also of critical importance to us,' Barclays chief Antony Jenkins said at the time.

'With a huge wealth of private and public sector experience, and having most recently led one of the world's pre-eminent regulatory authorities, I can think of no more suitably qualified person than Hector Sants to take on these challenges.'

Unfortunately the love affair wasn't to last.

Sants' case was the highest profile stress case to hit the City since Lloyds boss Antonio Horta-Osorio took two months off back in 2011, thanks to stress related insomnia. Although Horta-Osorio's return has been a triumphant one to date.

For Sants, the combination of heading up the FSA though tremulous times and then jumping from the frying pan into Barclays' fire was clearly too much. Well, that 'post Libor, post PPI, post Qatari fundraising' regulatory omnishambles, would be enough for anyone.

'Hector has been a great colleague on the Group Executive Committee,' said Jenkins.

'Although only with us for ten months, he has made significant progress towards creating a world class compliance function at Barclays and in improving our relationships with Regulators and Governments. I know my colleagues will join me in expressing our appreciation to Hector, as well as wishing him a speedy recovery.'

Barclays must now be in the market for another head of compliance and we'd wager the FCA and PRA are shaking in their boots. As we reported yesterday, both of the regulators are losing staff to the private sector twice as fast as the FSA was. Banks are willing to pay big bucks for the top regulatory talent – leaving the regulators up the creek without any talent.

Meanwhile, Sants is free to de-stress at his own pace. Kissing goodbye to the four-hour commute from his Oxfordshire home to Canary Wharf will presumably help…get well soon Sants.