The strong pound is causing trouble for Burberry
Asia has been an incredibly successful market for the heritage brand, but now success at home is causing trouble abroad.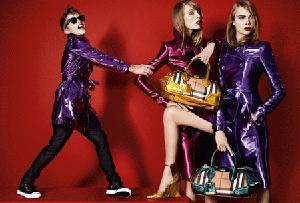 British heritage brand Burberry is buttoning up its famously well-cut mac in preparation for what could turn out to be a chilly spring, after warnings the strengthening pound could knock £30m off its profits this year.
The fashion house looks set to be a victim of its own success in Asia Pacific, a region where almost half its sales are generated. Data released last week showed China's economy grew at its slowest pace in 18 months at the start of 2014, and the government is leading a crackdown on 'conspicuous consumption' following a spate of embarrassing expenses scandals involving officials.
Burberry continues to put its best, incredibly well-heeled, foot forward, though, and has opened 11 new stores in the last six months, including one in Shanghai. Finance chief Carol Fairweather said: 'We see great opportunity for us still in China, both at home in China and when the Chinese luxury consumer travels abroad.'