The strong pound whacked the UK economy this year
Sterling's rise since last summer hit output and hiring, says Bank of England 'data hound' Kristin Forbes.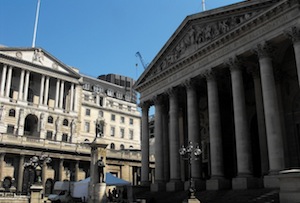 Businesses have been grumbling about the strong pound hitting their overseas sales all year, but it's hit the wider economy too, dampening output and employment and pushing down inflation, according to new Bank of England rate setter Kristin Forbes.

The strength of sterling, which rose 20% against the dollar to $1.7861 in the 12 months to July this year, cut the total number of hours worked and GDP by 0.4% between March 2013 and the second quarter of this year, Forbes said.

The pound appreciated 14.5% against a basket of currencies over the same period, she said in the speech in London yesterday, her first since joining the Monetary Policy Committee in July. It has since fallen back and was trading below $1.615 today.


The pound against the US dollar since January 2013. Source: Yahoo Finance
The increase in the pound's value, driven, ironically, by investors betting the expanding British economy means interest rates will rise soon, means inflation today is 0.8% lower than it would otherwise be, Forbes said. By the end of this year price growth, which is currently at 1.5% compared to the Bank's 2% target, could be 1% less.

She warned, though, that the Bank needed to keep an eye on that effect fading away. 'The effects of sterling's appreciation in 2013 through early 2014 will also not fade away as quickly as a midsummer night's dream,' she said, coming over all Shakespearean.

'But as these calming effects on inflation gradually dissipate, it will become even more important to monitor prospective signs of domestic price pressures to avoid the troublesome inflation sprite.'

Forbes, an MIT professor and former economic adviser to George W Bush, is still among the seven out of nine MPC members voting to keep interest rates at their record, 66-month low of 0.5%.

She dodged being described as a dove (or hawk), in an interview with The Independent, though. 'I'll continue being a data hound, although I'm not sure that's an animal I want to introduce to the lexicon,' she said, referring to a senior economist's label for her (fellow MPC newbie Minouche Shafik described herself as an owl last week - they'll be a veritable menagerie at the next committee meeting).

For all you fact fans, Forbes also takes the title for nerdiest wedding ever, having got married at the Mount Washington hotel in Bretton Woods where the post-World War Two economic order, including the World Bank and IMF, was established in 1944.