Struggling SMEs hamstrung by red tape
An FSB study suggests SMEs make the best employers - but Government regulation is putting them off hiring...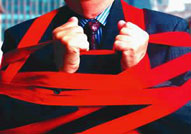 Small business owners are so confused by legal and regulatory requirements that they're shying away from hiring people, according to new research from the Federation of Small Businesses. Its study found that SMEs generally make better employers (not that the FSB is biased or anything), because they tend to offer their staff more flexibility and employ a more diverse workforce. But the Government's insistence on bringing in more and more red tape seems to be making recruitment increasingly unattractive…
The FSB report, a rather chewy tome written by the University of Westminster and snappily entitled 'Small Business in the UK: New perspectives on evidence and policy', found that the number of micro-businesses, i.e. those with fewer than ten employees, has actually fallen in the last ten years, while the number of sole traders has risen. According to the FSB, this suggests that the small business sector is employing fewer people despite growing in size – and this could be because entrepreneurs are deciding that hiring extra staff to help them out is more trouble than it's worth. And this is bound to constrain their growth.
Just 20% of SME owners said they felt confident about employment law, and the majority suggested that excessive regulation would put them off hiring people. As the report says, the cost implications of compliance are greater for smaller firms: 'There is clearly a disproportionate impact in firms where, for example, the costs of compliance are spread over only 5 employees, as opposed to 500… An increase in legislation and regulation can more easily be incorporated into the workings of large firms, who already have departments to deal with [this].'