Subway on a roll
Subway is knee-deep in dough because the great British public just can't stop eating sandwiches...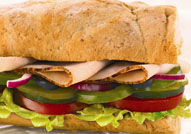 According to the latest figures from the British Sandwich Association (now there's a trade body we'd love to work for), Subway has sold a remarkable £300m worth of sandwiches in the last 12 months – an industry record, and nearly twice as much as its nearest competitor Tesco. It's also the first year Subway has topped the rankings, which just shows how rapid its rise has been – 'nothing short of phenomenal', according to the BSA's Jim Winship.
Of course, since Britain is the true home of the sandwich (at least that's our story, and we're sticking to it), it's not surprising that this humble bread-based snack has always held a prominent place in our affections. But if anything, our love affair seems to be intensifying: the UK sandwich market is now worth a whopping £5bn a year, and we're eating them all day every day. Subway's Steve Richards says customers are increasingly popping in for a sub in the mornings and evenings, not just at lunchtimes.
And just to prove that we're very broad-minded when it comes to our sarnies, it's worth noting that the most successful retailer isn't even British. Subway started life as a small sandwich shop in Connecticut before developing into the global giant it is today – in what seems like no time at all, it's managed to amass no fewer than 1,250 franchised stores in the UK and Ireland alone. These days, it seems like you're never more than 100 yards from a Subway in any kind of built-up area (not that we're complaining – we love their foot-long subs).