Suffering from: Psychosclerosis?
If life seems dull, joyless and pointless, you may not be depressed after all...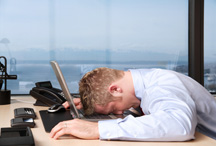 You may be struggling with psychoscleroris, a disorder that means literally a hardening of the mind.

It works like arteriosclerosis, in which arteries are starved of oxygen-rich blood. Patients pitch up at their GP's, complaining of indifference to the winners of The X Factor or the state of the stock market - which, for most doctors, means they must be in urgent need of medication.

The result is, of course, the further numbing of the senses and even less enthusiasm for talent show winners - or the team whose pitch won that all-important client account. But there's a high risk of misdiagnosis, as one person's acute psychosclerosis is another person's stiff upper lip.

The present treatment is to steer the victim towards religion and spirituality. After one visit to a Kabbalah centre, many claim to have a new-found sense of vigour and energy - mostly to leg it out of the door.
Contact Helen Kirwan-Taylor at helen@kirwantaylor.com