Sugar relies on gut instinct to pick new Apprentice
Sir Alan Sugar relied on his instincts in plumping for underdog Yasmina. So why the 12-week interview?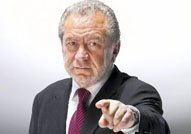 'My instincts are telling me that Yasmina's the right one for the job,' said Sir Alan Sugar last night, explaining his surprise decision to pick restaurateur Yasmina Siadatan as his latest Apprentice. Rival Kate Walsh had been installed as the bookies' favourite after largely failing to put a foot wrong during the previous tasks – and last night, unlike Yasmina, succeeded in making a box of chocolates that was actually edible (in our book, a bit of a prerequisite). However, Sir Alan chose to trust his gut – which is arguably not only bad recruitment practice, but might also make some wonder why he bothers having 12 rounds of interviews before making a decision...

As you may have gathered, we're not the greatest fans of the Apprentice here at MT – it's great TV, but it doesn't paint a very attractive picture of business life. The earnest business evangelist within us can't help wringing its hands at some of the liberties taken with management best practice in the name of entertainment. And Sir Alan's questioning of Kate during the post mortem boardroom session, after a task in which she hadn't done too much wrong (apart from over-pricing the chocolates maybe) did rather give the impression that he'd made his mind up about her regardless of her actual performance. Which doesn't seem very fair.

That said, this approach is not exactly uncommon in the business world, according to workplace psychologist OPP. 'Gut instinct remains worryingly high on the priority list for a lot of interviewers,' says OPP's Lucy McGee. 'Personal impressions are made incredibly quickly in the interview room, and can have a disproportionate effect on a candidate's chances.' Although it's especially tempting for entrepreneurs to rely on gut instinct – quite frequently entire new businesses are set up on little more than hunches after all – doing so risks missing out on the best talent, or even making a serious clanger of a hire, they say (and women are even worse than men, according to OPP: 42% are likely to trust their gut, as opposed to 36% of men).

OPP wants people to use formal testing methods – not surprisingly, since the firm is the UK license holder for the renowned Myers Briggs psychometric test. But even so they may have a point, as the old adage 'hire on aptitude, fire on attitude' only goes to show. A more rigorous approach would probably benefit all concerned; the wrong employee choices can cost small businesses in particular very dear. In an ideal world, you'd rather hope that our new Entrepreneurship Tsar would recognise that...

In today's bulletin:
Lloyds repays £2.3bn to the taxpayer
Hornby gets Boots after walking from HBOS
Porsche seeks extra horsepower from Qatari vehicle
Sugar relies on gut instinct to pick new Apprentice
MT Expert's Ten Top Tips: Big benefits with short contracts