Sun keeps shining for Thomas Cook
Apparently it'll take more than a pesky recession to stop us having our two weeks in the sun.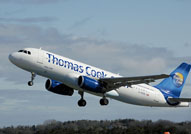 That's certainly the impression you get from Thomas Cook's results today: the holiday operator racked up annual profits of £308m, which is more or less the same as last year – not bad considering the City thought the recession and the swine flu outbreak would push profits down this time round. Apparently punters have been keen to steer clear of the eurozone, so it's been cutting down on short-haul trips and focusing on the medium-haul destinations instead. And with bookings holding up well both for this winter and next year, the plan seems to be working. Things obviously haven't got so bad that we're willing to give up our summer break…

All things considered, this looked like being a rotten year for Thomas Cook et al. If it wasn't bad enough that most of the world was mired in recession - with cash tight, that expensive foreign holiday seems an obvious candidate for the chop - the swine flu outbreak also made the idea of a quick trip to Mexico and the like seem a lot less appealing, somehow. And with the pound so weak that it will barely buy you a stale croissant on the other side of La Manche these days, the idea of a short-haul hop to the continent has also lost its lustre.

However, according to Thomas Cook, even that little lot wasn't enough to put us off. Its latest research has found that 'UK holidaymakers remain intent on taking their holidays abroad', with Turkey and Egypt apparently top of the wish-list for next summer. The bad news – for us, not for TC – is that the weakness of sterling and higher fuel costs have pushed the average UK holiday price up by about 6% (although TC says it's trying to cut better deals with hoteliers to offset the difference). But clearly that's a price we're willing to pay to get out of the UK. 'Staycations' are all very well, but sitting in a caravan in Wales watching the rain thud against the windows isn't much fun.

So Thomas Cook sounds pretty optimistic about next year, despite the possibility of another recession and distractions like the election and a World Cup. It's even talking about making more acquisitions, despite its debt pile doubling to £675m in the last 12 months. Perhaps our need for summer sunshine is a recession-proof commodity?

In today's bulletin:
Bank intervention quells Dubai panic - for now
Sun keeps shining for Thomas Cook
RBS offers Yuletide credit cheer to small business
A Traveller's Tale: New York and US unprepared for double-dip recession
MT Expert's Ten Top Tips: How to work with really difficult people