Supergroup is planning to get super-Trendy in China
The clothes retailer is launching a JV in the Middle Kingdom as its steps up international expansion plans.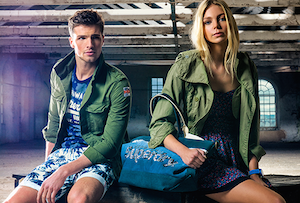 Despite the Japanese letters in its logo, Supergroup doesn't actually have a physical presence in Asia. That's all set to change though thanks to a joint venture announced today with the amusingly named Trendy International Group, a Chinese clothes retailer - whose logo also mixes Asian and Latin letters.
International JVs are rather on trend at the moment, as businesses eager to expand overseas look to minimise their risk of losing lots of cash. Dixons Carphone announced plans to launch a chain of stores in the US with mobile network Sprint last week and Thomas Cook signed a deal with the giant conglomerate Fosun to launch in China in June.
The new company will be headquartered in Guanzhou, a megacity near Hong Kong, and it plans to open the first store within a year. The move is part of a broader plan by the brand to expand its international presence – it reclaimed ownership of its US franchise in May and continues to open more stores in mainland Europe.