Superjumbo super-gamble
Singapore Airlines has become the lucky recipient of the first Airbus A380 super jumbo to roll – or should that be crawl – off the production line, 18 months late and more than four billion pounds over budget.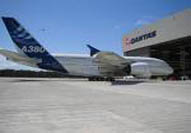 Producing the giant 800 passenger craft has brought once high-flying Airbus very close to the ground indeed, prompting many analysts to speculate as to the future of what was only a couple of years ago the world's most successful airline manufacturer.
To add to the gloom, it's now predicted that Airbus will have to sell a whopping 420 A380s before it sees any profit. The two big questions facing Airbus now are, one – can it deliver even the 189 orders it already has without further delays? And two, is the global market for ultra-large passenger aircraft big enough to save the A380 from joining the ranks of Concorde as a high-tech wonder-cum-commercial flop?

In addition to its home-grown troubles, Airbus also has to deal with the galling fact that arch rival Boeing is once more in the ascendant It's new plane – the smaller, lighter, fuel-efficient 787 Dreamliner – is selling like the proverbial hot cakes.

But delving a few decades further back into the Boeing story sheds an interesting light on the contemporary Airbus story. When the Boeing 747 – the original jumbo jet and the largest airliner in the world until the A380 came along - was launched in 1970, similarly dire predictions were made. Boeing had to borrow heavily to complete the project and there was much scepticism that anyone would buy the finished product. The 747 was too big, too expensive and would require brand new airport infrastructure – the same complaints that Airbus execs have had to field in their A380 sales pitch.

35 years later the 747 has sold around 1,500 units and is the world's most successful commercial aircraft. Its manufacturer 'bet the farm' and, eventually, won big. Airbus is playing the same all-or-nothing game with the A380. It's too soon to say how the cards will fall, but as every gambler knows, when you're playing for high stakes it's absolutely vital to keep your nerve.