Supermarket giants get off lightly
The Competition Commission's long-awaited report on the £120bn UK supermarket industry finally arrived today – and believe it or not, it's a bit of a damp squib.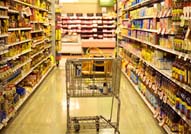 Some were hoping that Commission would try to rein in the ambitious expansion plans of the four big guns – Tesco, Sainsbury, Asda and Morrison – and strike a blow for their poor downtrodden suppliers. But after 18 months of investigation, it basically decided there was nothing much to worry about.
In fact, the report actually recommended making it easier for the big boys to open new stores by simplifying the planning permission process. Apparently we need at least three big supermarkets within ten minutes' drive to create proper competition, and currently just one in three of us has this pleasure. So rather than having fewer massive superstores, we're actually going to get even more. Which will no doubt delight local shop-owners.
The only thing the report did criticise was land-banking, where supermarkets buy up prime real estate near their stores and leave it empty to prevent rivals muscling in on their turf. Although admittedly the only losers from this practice tend to be… the other three big supermarket chains.