The supermarket price war shows no sign of slowing
Food prices fell by 1.7% year-on year in the last three months, as Aldi and Lidl continued to surge.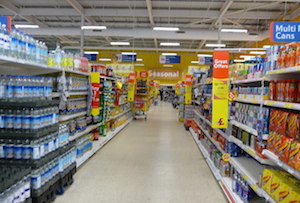 Fresh supermarket sales figures out today paint a familiar picture. Under threat from the German discount supermarkets, the industry's big players have been slashing costs – leading to a 1.7% year-on-year fall in food prices in the twelve weeks to October 11.
The tactic doesn't seem to have done the job. Aldi's sales were up by 17.6% to around £1.4bn in the period, while Lidl's leapt by an impressive 17.9% to just over £1bn, according to Kantar Worldpanel. Between them, the discount chains now represent almost 10% of the entire market.
Of the 'Big Four' grocers, just Sainsbury's was growing - and by a comparatively feeble 1.1%. Sales at Morrisons were down 1%, Tesco's dipped by 1.7%, and the situation looks particularly drastic for Asda, where sales were down by 3%.