Supermarkets swear to tell the truth, the whole truth on offers
Supermarkets have agreed to the OFT's code on promotions. Will shoppers now buy one and get some certainty free?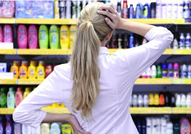 Eight of the UK's biggest supermarkets have signed up to the Office of Fair Trading's principles on special offers and promotions. Tesco, Morrisons, Sainsbury's, Marks & Spencer, Co-op, Lidl, Aldi and Waitrose are all on board with the voluntary system, designed to make sure offers are what they purport to be, that prices aren't being inflated to make offers look better, and that promotions are 'fair and meaningful' for consumers.
There's certainly a lot of concern around this. Groceries are said to account for about just under half of household spending. The whole promotions system clearly demands a high degree of trust from the shoppers: who but the biggest barcode anorak is going to know whether a packet of crumpets claiming to be half price actually is? The OFT has clearly taken this seriously, looking into the issue since February in a bid to allay shoppers' confusion. (Perhaps now that the watchdog is done with this they can finally sort out energy bills and train fares too.)
Yet the OFT hasn't quite achieved a full supermarket sweep: Asda has gone against the grain and shunned the voluntary code. It's arguing that as it aims to keep prices for customers 'as low as possible for them week in week out', a code covering special offers wasn't relevant. We have to assume that the Walmart-owned retailer, the UK's second-biggest supermarket, assumes its customers will instead trust that the concept of someone banging on their arse pocket and jingling some change is proof enough that the store's offering genuine value.