Survey sends BSkyB plunging
The power of market research: one little survey has just wiped £750m off the value of BSkyB...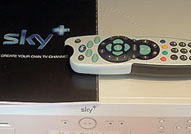 Wednesday was another painful day for the FTSE 100: the index fell by 189 points to 4040.9, a 4.5% drop, as the miners and bankers took yet another pasting. But one of the hardest-hit stocks was BSkyB: the satellite broadcaster saw its share price fall by over 11%, as investors worried that pay-TV customers were likely to cancel their Sky subscriptions as the recession bites. And it looks as though a single market research report was to blame.
Today's fall was seemingly the result of a report from media specialists Continental Research, which made grim reading for BSkyB (and other pay-TV specialists). Its survey (of 1,022 people in the UK) found that 18% were planning to reduce their spending on TV services in the coming year, while 13% were planning to switch to a cheaper package (by cancelling some of their premium channels, for instance) and 7% said they'd stop paying for extra channels altogether. Another 6% are postponing plans to upgrade.
The received wisdom tends to be that if times get tough, people will stay in more and watch more TV – which ought to be good news for BSkyB. But the survey suggests that people are looking to save even more of their cash – and with the emergence of Freeview and internet-based services, pay-TV may soon be a luxury we can live without. 'With new ways of watching TV now available, the credit crunch could actually be the impetus that causes a significant change in peoples' viewing behaviour,' says Continental's Tim Barber. The big winner (apart from Continental itself, which probably can't quite believe that their little survey has caused such a storm) could be Freeview – 13% of respondents were planning to get that in the next year.