Sweet sales up as Cadbury insists it knows its Kraft
Cadbury's swelling Q3 earnings put the squeeze on £10.2bn Kraft bid.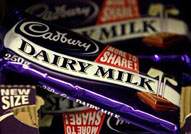 We could almost hear the sighs or relief in the boardroom as Cadbury's posted a better than expected 7% rise in third quarter earnings today, well ahead of the 4% it had predicted for the period. The results couldn't have come at a better time for the nation's favourite sweet maker, embroiled as it is in a takeover battle with US giant Kraft Foods.
Cadbury's chairman Roger Carr said it showed the company's ability to create 'material shareholder value as a pure play standalone confectionery business'. We don't need any help from acqusitive rivals across the pond, in other words.