Sweet victory: Cadbury defeats Nestle in purple wrapper legal challenge
The signature purple wrapper on Dairy Milk chocolate bars is a trademark and cannot be used by other chocolate makers, a judge has ruled.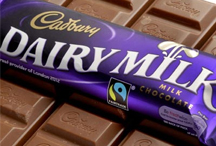 The rich and sumptuous dark purple of the famous Cadbury's Dairy Milk chocolate bar has been seen on sweetshop shelves since the start of the First World War. But it was only in 2008 that the company decided to make the exact shade (Pantone 2685C, for the graphic designers out there) into a trademark. Naturally, its Swiss competitor, Nestle, challenged the move arguing that colours cannot be trademarked. Alas, High Court Judge Colin Birss doesn't agree.
In his ruling, Judge Birss said: 'The evidence clearly supports a finding that purple is distinctive of Cadbury for milk chocolate.' At first, you could be forgiven for thinking the ruling absurd. But this reporter tested the judge's decision by Googling images of 'chocolate bars in purple wrappers', and the only products returned were Cadbury ones. Even Lindt's branding is a sort of royal blue. Unfortunately for Nestle, Cadbury really does seem to have the monopoly on purpliness.
Cadbury first started using this specific tone of purple back in 1914 to honour Queen Victoria (it is a very regal-looking purple), so it's not as though the firm has only just popped up with some spurious ideas about who owns what. Strangely, this is not the first time that a Pantone colour has been the subject of a court case. Just last month, shoe designer Christian Louboutin won trademark rights to the distinctive red soles that adorn his designs.