All systems go in manufacturing
New figures show manufacturing is growing at its fastest rate in 20 years. The challenge is to keep growing.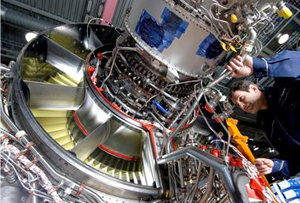 Manufacturing data: it's enough to cause even the most seasoned statistician's eyes to glaze over as they start thinking in detail about what they're going to have for lunch.

But figures published today show the sector has taken rather an exciting turn: according to the snappily-titled Markit/CIPS Purchasing Manufacturers' Index, manufacturing is creating 5,000 new jobs a month, mainly because orders are at their highest level in almost 20 years. That should be enough to suppress any yawn.

The index jumped to 58.4 in November, up from 56.5 in October (anything above 50 indicates growth): its highest level since February 2011. The orders rolled in from Asia, the US, Germany, France, Ireland, Belgium and the Middle East, although the UK was the 'main pillar' of demand.

It's more good news for the government: back in 2011, George Osborne was advocating a return to 'Made in Britain', urging companies to emulate the style of the German Mittelstand, the core of mid-sized manufacturers that put Germany on the engineering map. The government's subsequent attempts at encouraging this – which involved a vague plan to 'increase ties' between big firms and small suppliers – was half-hearted, but companies clearly liked the idea.
Rob Dobson, a senior economist at Markit, was positively fizzing with excitement. 'Manufactuing and the wider economy are on course to build on the third quarter's solid foundations,' he enthused.

'The sector's solid growth was primarily underpinned by a strong domestic market, boosting new business in the UK and giving manufacturers the confidence to look ahead to the future,' raved David Noble, chief executive of the Chartered Institute of Purchasing supply, who added that it was an 'all-round glowing performance'.

Is this the beginning of a return to a Victorian-style manufacturing revolution? Yes and no. At the moment, the UK's manufacturing sector is best at the high-tech, high-science stuff other countries don't have the workforce to create. The challenge at the moment is to recruit enough people with the right skills to help it grow. The government's new immigration rules aren't going to help.