Taking the lid off CEO pay
Those who claim bosses' salaries are out of control miss the point: their rampant inflation is part of the ideology of shareholder value. How did we allow this to happen and what can be done to bring their remuneration back down to earth?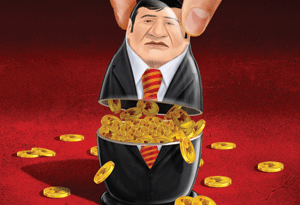 Fortune called it 'the great CEO pay heist'. 'Executive compensation has become highway robbery,' it fulminated. 'We all know that.' Consultant and high-pay critic Graef Crystal entitled his book In Search of Excess, in ironical homage to Peters and Waterman's ground-breaking volume In Search of Excellence. A modern CEO, he wrote, was 'a cross between the ancient Pharaohs and Louis XIV - an imperial personage ... who is paid so much more than ordinary workers that he hasn't got the slightest clue as to how the rest of the country lives'.
The most noteworthy thing about these publications, even more than the amounts of money they describe, is their date. The Fortune article was published in 2001. Crystal weighed in on 'the overcompensation of American executives' a decade before in 1991. After a further 11 years of uninterrupted CEO enrichment in which the differentials between the 1% and the rest of us have widened from River Thames to Grand Canyon proportions, the questions that the Fortune article posed - 'How did it happen? And why we can't we stop it?' - take on redoubled resonance and urgency.
Actually, the answer is simple: the metaphorical elephant in the room that is so big no one can see it. CEO pay isn't out of control at all, just the opposite. It goes up in the same way that an up escalator goes up, because that's what it is designed to do. 'Do you believe in a market economy or don't you?' asks John Purkiss, a principal at search firm Veni Partners. Of course, no one expected pay to turn into a Frankenstein's monster, trampling all over the system that created it. But the fact is that soaring CEO pay is the logical outcome of changes in the way Anglo-US companies are run - changes that were deliberately introduced in the 1980s.