A tale of two Cities as pound dies and FTSE flies
Sterling dives to well under a Euro, but the market doesn't care - it's on the up again...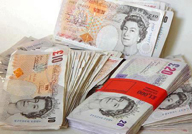 Mixed messages from the financial sector today, as the pound plummets to a five month low against the Euro of only 1.10, while the FTSE soars past 5,150.
The latest bout of pain for the battered quid – last week it fell nearly three per cent on fears that commercial-deposit interest rates would be cut - is on the back of a rather dusty technical article in the Bank of England's Quarterly Review. The piece suggests – not unreasonably – that the financial crisis may have led to a permanent downward-revision in the value of sterling by the international investment community.
Hardly surprising then that our currency should take a caning as a result - if even the Bank of England thinks sterling is on the way down, who's going to argue? But Bank officials were apparently taken aback at the reaction, claiming that the piece was not meant to be a policy forecast. Presumably we can deduce from that that when the Bank is forecasting, it takes a rather more glass-half-full approach.