Tale of WAGs is a dog
If, like us, you have a soft spot for truly awful products, there's no better time of year than Christmas. And this week, our favourite gift idea has to be the tragic WAGs Workout video, starring – well, a load of people we've never heard of.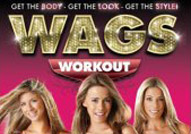 In case you've been fortunate enough to miss out on the WAGs phenomenon, the term applies to the wives and girlfriends of footballers. After becoming common currency during last year's World Cup, it's since been cemented in the cultural zeitgeist by a string of terrible TV shows like WAGs Boutique (where rival teams ran shops – stick to what you know, and all that).
Of course, it's very easy to criticise WAGs, since most of them are rich, pretty and not very bright. But we can't help admiring the entrepreneurial zeal that's enabled some of these girls to become successful in their own right, despite having no discernible talents (except perhaps shopping and personal grooming). Take Wayne Rooney's fiancee Colleen McLoughlin, who is said to earn more than a million pounds a year from her columns, DVDs and modelling, or Peter Crouch's beau Abi Clancy, who gets more airtime than he does these days. Great role models, you could argue.
But surely this latest video is a step too far? In WAGs Workout – currently the 26,926th best-selling DVD on Amazon, at just £10.98 – in we're being invited to dance our way to fitness with Nicola T, Melissa Johnson and Lisa Munday. Not only have we never heard of them, we've barely even heard of their other halves – QPR's Simon Walton, Cardiff City's Roger Johnson and Norwich's Jamie Cureton.