Talent level sky-high at Britain's Most Admired Companies launch
Bright sparks from Britain's best-regarded firms took in the view - and the champagne - at Paramount.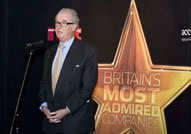 MT's 'Britain's Most Admired Companies' awards aim to recognise the best of the best - the UK firms and business leaders most highly-regarded by their peers. But last night's launch party for our 2009 awards, at London's CentrePoint, was also a chance for us to meet the next generation of business superstars. The Paramount bar (which, on the 31st floor, has the most incredible panoramic views of the city) was packed to the rafters with emerging talent from Britain's top companies, as well as a strong contingent of up-and-coming young entrepreneurs. And if this lot are anything to go by, UK plc's future is in safe hands...
CLICK HERE FOR PHOTOS

Persuading people to attend a work event on a cold and windy November evening is no mean feat, but the appeal of BMAC helped MT to pull it off. With representatives from Autonomy, Accenture, Sainsbury's, BSkyB, and SAB Miller, the room was positively brimming with young talent from the country's top companies. MT also invited a selection of fresh-faced London-based entrepreneurs, who are doing exciting things from social gaming to bespoke suits, and were only too happy to help us out with the champagne and canapés.

Reputation expert Lord Bell provided some light entertainment with a wonderfully colourful speech about his time at Saatchi and guiding Mrs Thatcher through her election victories (turns out she needed some persuading to cite Monty Python's dead parrot sketch back in 1990, since she'd never even heard of it). He pointed out the importance of upholding a good reputation – not just among customers, but also with your competitors, who by default are your harshest critics. Let's hope the assembled crowd were paying close attention to Lord Bell's rousing speech, since most of them are still facing some pretty challenging conditions out there at the moment.
The main event is next Tuesday, when some of the top names in UK business will assemble at Claridges to celebrate Britain's Most Admired Companies 2009. Check back then to discover this year's surprise winner...