Tata cash injection for Jaguar as Government mulls bailout
Tata has reportedly been persuaded to funnel more cash into Jaguar Land Rover - but it won't be enough...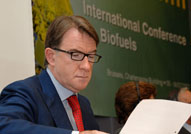 Indian car giant Tata is apparently about to pump 'tens of millions of pounds' into its ailing British subsidiary Jaguar Land Rover to solve its immediate cashflow crisis – although it will probably still need Government support to keep it going in the New Year. Today's papers claim that the prospect of a massive state bailout scheme has persuaded Tata to provide some extra short-term funding for the carmaker. If this is true (and Tata is refusing to deny it), the Indian company must have been convinced that it wouldn't be throwing good money after bad – which suggests the Government has indicated a willingness to step in. This will please the unions – but it could open a can of worms…
It emerged last week that the Government was considering a rescue plan for Jaguar Land Rover, which (according to Labour peer Lord Bhattacharyya) would cost about £700m. It's an awkward situation for Business Secretary Lord Mandelson and the Treasury: on the one hand, the carmaker is a significant part of the West Midlands economy, directly or indirectly employing thousands of people (better known to politicians as voters), and it's also a big contributor to UK auto R&D. On the other, the government can't be seen as an easy touch; it can't afford to bail out everyone, and has already let famous names like Woolworths and MFI go to the wall.
Things are further complicated by the fact that owner Tata – despite falling sales in its own country – isn't exactly short of a few quid itself, making a bailout more difficult politically. Hence why Mandy has been playing hardball with his recent rhetoric, suggesting the Indian group must take responsibility for saving the business. However, the FT reports that the Government already has KPMG and NM Rothschild beavering away in the background, trying to decipher Tata's finances and those of the battered auto industry – presumably to work out how the Government can justify an intervention as a 'lender of last resort' without opening the floodgates.