Taxpayers hit by £50m bill from Comet collapse
The electrical chain's main secured creditor OpCapita is expecting to get back 34p in the pound following Comet's collapse.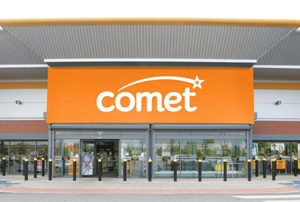 Comet has finally plunged to earth, with secured creditors Hailey Acquisitions Limited (HAL) about to receive 34% of their dues following the collapse of the chain. HAL, an investment vehicle set up for the purpose of acquiring Comet in February this year, will reap £49.7m from the administration process, but unsecured creditors to the chain will not get a single penny.
Other victims of the collapse include HMRC, which is owed PAYE and VAT sums, and security firm G4S. It is thought that HMRC will suffer a loss of £26m because of the firm's collapse, but the government is reportedly going to take a £50m hit in a combination of the unpaid tax and also redundancy costs it has agreed to pay to the 6,600 Comet staff. £1.5m will be paid to cover salary arrears and holiday pay.
Reports also say that other unsecured creditors ITV and Google are owed £1.2m and £602,000 respectively for advertising services, and customers holding Comet gift cards with a value of around £4.7m will also be hung out to dry.